This Week at the Ranch:
3 days ago
School Hours:
Regular Schedule: 7:40a - 2:15p Minimum Days: 7:40a - 12:20p
THIS WEEK OCTOBER 15 -19

HOMEWORK CENTER: T-W-TH
Yearbook on Sale $45 - Don't wait!
Yogurtland: After school M-T-Th-F $3

M-
T- Parent Conferences till 5pm
Softball Tryouts 12:30
Robotics 12:30
W- Parent Conferences till 6:30pm
Fall Band Concert 7pm
T- Robotics 12:30
F-
S- Saturday School, 8am
Innovative Learning Field Trip
YuCaChella Auditions, YHS 10am
*****************************************

OCTOBER 22 - 26
Yearbook on Sale $45 - Don't wait!
Yogurtland: After school M-T-Th-F $3
Softball Practice 2:30
Flu Clinic
King Tut Field Trip
Robotics 2:15
Interact Club Lunches
Cross Country 2:30p
W
- Breast Cancer Awareness Day
WEB Crew Meeting 2:25p
Robotics 2:15
Cross Country 2:30p
Pajama Day
PTSA Dance 6-8pm
Robotics Competition 8am
OCTOBER 29- NOV. 2
Yearbook on Sale $45 - Don't wait!
Yogurtland: After school M-T-Th-F $3
T
- Holocaust Museum Field Trip
WEB Student Social.1:30p-4:30
S- Yu-Ca-Chella Performance
SCHOOL ANNOUNCEMENTS
3 days ago
Whats New?

:
scroll down or "Visit Page" for information on each block.....
Verizon Innovation Field Trip

STEM Family Challenge Sign ups!
PARENT CONFERENCES INFORMATION
Band News!
Career Center
Verizon Innovative Learning Field Trip
Our partnership with Verizon and CSUSB for the Verizon Innovative Learning program offered a great field trip to CSUSB for our students. The trip included a tour of the campus, interviews with students from different STEM majors, a discussion about Climate Change offered by the League of Women Voters, a tour of the Innovation Lab including time with VR, 3D printing, and circuits. Students also visited a university chemistry lab and created 'comets' with dry ice, liquid nitrogen, ammonia, and some space debris in the form of corn syrup.
STEM Family Challenge Night!
Bring the kids and enjoy a night of STEM fun with your child. This is a surprise STEM challenge, for a team of 2-4 family members. PRIZES will be awarded and you will get a chance to see STEM in action!

Sign up now!
When: November 14, 2018
Time: 6pm to 8 pm
Who: Students and their families (teams of 2-4)
$10 donation per family -
checks payable to MVMS PTSA
PARENT CONFERENCES
Parent Conferences will be held on:
Tuesday, October 16.....
Last names A-C 12:30 - 2pm. D-J 2p - 3:30pm. Any 3:30 - 5pm
Wednesday, October 17
Last names K-O 12:30 - 2pm. P-S 2p- 3:30pm
T-Z 3:30 - 4:30pm. Any 5:00-6:30pm.
Spaghetti Dinner for Music!
Come out and support a local award winning organization! The Mesa View Middle School Band and Choir invite you to a spaghetti dinner at Clarkies Diner in Calimesa on October 19th from 4:30-7:30 PM. Tickets are only $10 and can be purchased at the door.
Click here for details.
Your meal will include Salad, Spaghetti (Vegetarian Option Available), Garlic Bread, Cinnamon Streusel Cake and a Soft Drink. You may also take your meal to go (drinks not available to go). MVMS Band and Choir receives 60 % of proceeds from this event.
First Concert is Coming!
The award winning Mesa View bands and choir will be having their first concert of the year this
Wednesday night, October 17
. The performance will begin at
7:00pm
in the gym. These hard working students are looking forward to showcasing their progress and would love to see you there!


Career Center in Full Swing
Our Career center has been bringing in speakers to a packed audience. Students can come in at lunch to hear about a variety of careers and get some first hand experience.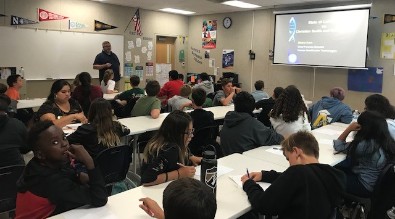 Jersey Day
Friday, October 5 was Jersey Day. Students and staff were invited to wear the jersey for their favorite teams!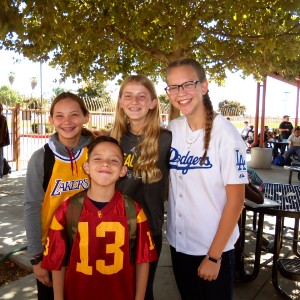 Volleyball and Football
Our Volleyball and Football teams' season is almost over! Be sure to come out and cheer for your fellow Mustangs as they work hard to get the win for our school!
Club Rush
Last week, students held a Club Rush during both lunches to promote this year's club activities. A variety of clubs were represented so students could ask questions and decide what interested them. Most clubs are still accepting members, so check the bulletin and website for meeting days and get involved!
PSAT TEST OPPORTUNITY for 8th Graders
"Is your 8th grader planning to go to college after high school? If so, the PSAT8 is a great opportunity to make sure they are on the right track. Registration and payment are due by Friday, September 7!" Click HERE for the link, or see the Information Flyer in the block above.

Student Council Class Officer Elections
Student council campaigned last week for class officer elections. Nominees made posters and other campaign materials, and then on Thursday, August 23, gave their speeches to the general student body at lunches.
Congratulations to: 8th Gr. President: Ethan M.; VP: Jayne F.; Secretary: Natalie W.; Treasurer: Sammi B.; Sports Commissioner: Arianna L. 7th Gr. President: Hannah E.; VP: Jack J.; Secretary: Alyssa O.; Treasurer: Kaylee L. Sports Commissioner: Jake G.
Back to School Night
8/15/18
The 2018 Back To School Night was held on Wednesday, August 15. The WEB leaders gave a special presentation for 6th grade parents, and all classrooms were open for visitation and a brief orientation to their curriculum for the year. Thanks to WEB and Student Council for assisting. Great job everyone!
Welcome Back Assembly Rally!
8/10/18
The action packed Welcome Back Assembly was held on Friday, August 10.! Students met our Interim Principal, Mr. Donohue, and had fun learning about Mesa View's PBIS expectations and new slogan - "PIK the Mustang Way"! PIK stands for Perseverance, Integrity, and Kindness. During the rally student's showed their school spirit, won Mesa View apparel, and viewed an entertaining video showcasing how to "PIK the Mustang Way". We're looking forward to our students showing perseverance, integrity, and kindness everyday, both in and out of the classroom!
Carson Scholarship Winner Announced for 2018
Congratulations to Lily E. for being named a Carson Scholar! Once named a Carson Scholar, students are awarded with a $1,000 college scholarship and recognition package. The Carson Scholars Fund announced that 501 of the best and brightest academic superstars from across the country have been named Carson Scholars this year and Lily is one of them! Lily was nominated by Mesa View based on her high academic achievement and commitment to the community. Carson Scholars are role models and represent our future leaders. Lily was recently honored at a banquet held at the Omni La Costa Resort in Carlsbad where she met Dr. Ben and Candy Carson
Science Students Creat
Students were to choose an endangered animal, based on their group research project, and create a PSA (Public Service Announcement) to bring attention to the public the needs of the animal based upon their findings.
Renaissance Week for 7th Graders
7th grade History classes participate in a variety of activities to bring the Renaissance to life. Each day is a different activity and include presentations by "Queen Elizabeth" (pictured), a period blacksmith, MIlitary demonstrations, "Sir Francis Drake", and other in-class activities.
6TH Graders Donate $500
6th graders in Mr. LeVan's class ran a popcorn business all year and chose to donate $500 of their profits to the Jeans for Genes fundraiser in support of the Cystic Fibrosis Foundation.
These donations were accepted on the Foundations behalf by Mrs. Wendt, a teacher at MVMS. We are proud of our Mustangs for such a generous and caring donation from their hard work! Go Mustangs!
Special Olympians!
Students from Ms. McMurtrey's class were cheered on by the student body as they prepared to leave to participate in the Special Olympics Regional School Games at Beaumont High School.
Students will participate in a variety of track and field events. Go Mustangs!
MVMS Band and Choir Excel!
The Mesa View bands and choir have had a very successful past two weeks. All 7th and 8th grade students participated in at least one festival hosted by various organizations throughout southern California. Ensembles prepare 3 pieces of music and perform for a panel of judges. The judges listen to the performance and provide both written and recorded feedback which we will use to further improve throughout the year.
The bands also have to perform a piece of music they have never seen before. We are given 4 minutes to talk through any potential pitfalls, and then we perform. This is like the equivalent of learning a new dance routine that includes between 20-50 dancers with only 4 minutes to prepare.
The Concert Choir received a rating of "Unanimous Superior" and a score of 74.5/80.
The Concert Band received a rating of "Excellent" at 2 festivals they attended and were just shy of "superior". The Mustang Band received a rating of "Unanimous Superior" at 2 festivals.
This ensemble has received this award at the last 7 consecutive festivals meaning they have received the highest ratings possible from every adjudicator (over 26 in total) that they have played for in the past 2 years. To this day, this is the longest streak of any band in the district.
Congratulations to our Musical Mustangs!!
PREVIEW NIGHT
Future Mesa View families! You are invited to attend our Preview Night and Honors Information Meeting, April 10, 2018. The program begins at 5:30 p.m. in the Mesa View MPR. This evening is specifically for our incoming Mesa View families.
At 5:30, the award winning Mesa View band will be performing,followed by an overview of life at Mesa View at 6:00. At 6:30 p.m. we will begin our Honors Information Meeting for any families interested in enrolling in Honors classes for 6th grade. Also, beginning at 6:30 is our Art Show where you can view some of Mesa View's amazing student art work. We hope to see all of our future Mustangs April 10 at 5:30 p.m.
Yucaipa Fire Department Does Career Day for Accelerate Students
On Wednesday, March 7, the Fire Department conducted a program for students in our Accelerate Program to demonstrate the duties of being a firefighter. Students were given an opportunity to experiences everything from trying on gear, to exploring the engine and running the sirens. Thanks to our great first-responders for showing our students a little slice of their possible futures!
BOOK FAIR THIS WEEK
TUES-FRI
Book Fair has begun! Tomorrow the book fair will be open all day from 7:30 - 3:30 TUES - WED- THUR and from 7:30 - 1:30 on Friday.
There are lots of great books, gift items and fun things to purchase. All proceeds go to the PTSA to help pay for the assemblies, activities and field trips that you enjoy. Please come and purchase some to help out Mesa View, and get a good read in as well!
Mustang 5K Run
Mesa View held it's annual Mustang 5k Run to raise funds for supporting students here at school. The PTSA worked hard to put on this event and everyone enjoyed the activities prior to the run. Thanks to everyone who worked to make this event a huge success.
8th Grade Girls STEM Trip
Mesa View 8th grade girls had an amazing day at the University of Redlands attending a conference focused on STEM careers. They participated in workshops presented by women who have STEM careers and heard from an amazing motivational speaker.
District Science Fair
On Saturday February 24th the Yucaipa Calimesa JUSD, Science and Engineering Fair was held at Mesa View. The forty best projects from around the district competed for prizes. Thirteen students were selected to compete in the county fair, on April 3rd. Winning Mesa View students included: Lili E. with $100 for first place, Madi P.with $50 for second place, and Rhett Bogh and Carson Lundgren with an honorable mention. These students also earned an Honors designation for their science grades
Spirit of Prudential Community Award for CA
Congratulations to William S. for receiving a certificate of excellence signifying he was among the top 10 percent of applicants for the Spirit of Prudential Community Award in the state of California. William also received the President's Volunteer Service Award recognizing the significant amount of time he has spent volunteering in his community. William was presented with a signed letter and certificate from President Trump recognizing his dedication to volunteering in his community.
Lion's Club Peace Poster Contest
The local Lion's Club held their annual poster contest. Shown are the entrants. The winner was Evelyn M for the Yucaipa School District. From left to right: Front Row - Gregory C., Colin T., Derek D., Lexie F., Amber B.. MiddleRow - Inez W., Cariann T.,, Dillon P., Ethan M., Delanie T,. Instructor: Mr. Bennett. Back Row - Elizabeth E., Haley K., Evelyn M., Lida P., Avada G. Well done Mustangs!
Awards Assembly - January 19
Mesa View honored outstanding students on Friday, January 19, for it's mid-year Awards Assembly. Students who earned awards for Academic Achievement, Citizenship, Band and Art were recognized before parents and their peers. Congratulations to our best Mustangs!
Basketball Season is Underway
Boys and girls basketball season is underway here at Mesa View. Girls and boys teams practice two to three days per week and it's been a fun run against other middle schools in our league. Currently the Girl's team is ahead 2-0 games. The8th Grade Boys are neck and neck at 1-1 games. The 6/7 Boys are currently behind at 0-1. Keep up the hard work, players, and finish strong!
Social Media Responsibility Assembly
Tuesday, January 9, an assembly was held in the gym for all students. Discussion of both internet/social media safety and responsibility online was presented in an entertaining manner that engaged students.
PRYDE Leadership Camp
Congratulations to the following nine students for being selected to attend the PRYDE Leadership Camp held the weekend of December 9 & 10 in Crestline. PRYDE is a leadership camp sponsored by the Yucaipa Rotary Club and these students went through a competitive process to be selected. Congratulations to Leilani A., Peyton B., Shayla C., Spencer F., Griffin H., Phoebie M., Rudra P., Maddie P., and Me'Kya Y!
Please support us when you shop on Amazon. Go to
smile.amazon.com/ch/91-2154884
and Amazon donates to Mesa View Middle School PTSA. Thank you and happy shopping!
Winner of the Lion's Club Peace Poster Contest
The winner of the 2017-18 Lion's Club Peace Poster Contest for the local area of Yucaipa/Calimesa School District is Evelyn M.. Her winning design will go on for future judging - county, state, U.S., and world. Congratulations to our Mustang!
Red Ribbon Week -
Natural High Essay Winners
Last week, we received 86 Natural High essays and were amazed at how our students believe in the power of staying drug free and put their energy and focus into their Natural Highs. Thank you to all of our students who entered the essay contest.
Congratulations to our Natural High essay contest winners. River P., Me'Kya Y., and Piper S. wrote the winning essays and received Starbucks gift cards! Click on their name above if you'd like to read about their Natural Highs.
Robotics Team Goes to the Qualifying Tournament!
The Robotics team participated in the first scrimmage of the year on Saturday, October 21, here at MVMS. They worked hard for weeks prior to the event and earned the right to go to the Qualifying Tournament in Riverside on November 4th. Go Mustangs!
Parent Conferences
Parent Conferences were held on Tuesday, October 17, and Wednesday, October 18 for all parents to attend and discuss their child's progress.
Thanks to the teachers and staff that made this event run smoothly and to the parents who came.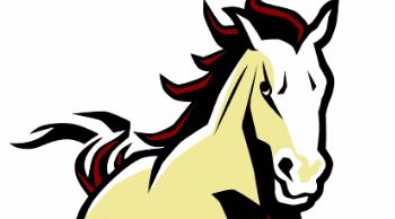 DJ Party Tons of Fun!
Students who sold enough of the Cherrydale fundraiser items were treated to a fun DJ party on Thursday, October 19, in the MPR. Food, drinks and games along with cash prizes were part of the fun. Thanks to all the students who sold and contributed to the PTSA's fundraiser. MVMS thanks you!
Mesa View's Got Talent
a Huge Success!
With over 200 hundred people in attendance, all enjoyed the variety of acts that were performed on Friday, October 6. After some difficult deliberation, the judges determined the winners. 1st Place: Malauna T., 2nd Place: Hailey S., 3rd Place: Frankie J. Congratulations winners! Thank you to Mr. and Mrs. Labrada, Ms. Williams, PTSA and all the volunteers who helped!
District Features MVMS Student Art
Students in Mr. Bennett's Art classes had their work displayed in the District Office Lobby and Board Room. These art projects were the best of the best, and will be on display for the next few weeks. Stop by and have a look!
Club Rush at Lunch This Week!
Clubs held sign ups at lunch this week. Clubs to join include: Video Game Club, Anti-Bullying Club, MakerSpace, Garden Club, Builders Club, Rotary Club, Olympia Math Club, The Ride Club. Signups were at Lunch on Wednesday, September 13, and Thursday, September 14.
Mesa VIew's First Dance
The first dance of the year, was a huge success! Hawaiian was the theme of the evening and was embraced by staff and students alike. Special thanks to Student Council and all chaperones for making it a night to remember!
8th Grade History Field Trips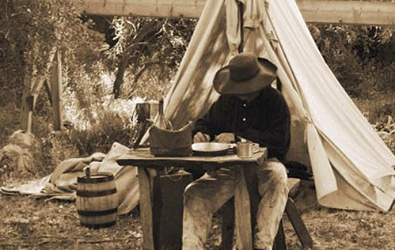 There are TWO 8th Grade History field trips available this year and you can go to both! Gold Rush Adventure, on March 7, 2018 and Civil War Day on May 10, 2018. Permission slips were passed out in history classes today, August 25, 2017. Cost is $30 for each trip, for both students and chaparones. You must have TWO permission slips if you want to go to both. Money must be turned in my September 6, 2017.
Awards and Scholarship Applications
Attention Mesa View Students: If you've made a difference volunteering over the past year, you could win $1,000 and a fabulous trip to Washington, D.C. by applying for a Prudential Spirit of Community Award. Even more importantly , you would win recognition that might inspire your friends to follow your example. These prestigious awards have honored more than 100,000 middle and high school students over the past seventeen years solely for their volunteer work. If you are interested, please see Ms. LaFourcade int he Counseling Office.
Yearbook Sales Have Begun
IT's time to order your yearbook! The early bird price is $45. Price will go up in January so get yours now. Yearbook ads are also available for purchase, space is limited so order early. We sell out of the yearbook every year, so don't wait until the last minute and miss your opportunity to get your 2017-2018 yearbook.
REMIND 101
All students, MVMS Staff, parents and community members that want to be updated about important school events, can join our Remind 101 messaging group. You will get text notifications about these events.
Just text to 81010 the message @mvmsadmin.
It will automatically enroll you. Some teachers are using this for their individual classes as well. So check with your child's teacher for the access code.
Student Council Elections
7th and 8th grade Student Council held their annual elections this week. Campaigns ran all week and speeches were given at lunch on Thursday. 7th Grade Winners: President Lea M.; Vice Pres. Jayne F..; Secretary: Bella D. Commissioner of Sports: Phoebie M.; Treasurer: Shantal. 8th Grade Winners: President: Avai O.; Vice President: Alanna T.; Secretary: Jordyn T.; Commissioner of Sports: Brinley T.; Treasurer: Lauren P. Congratulations to our elected officials!
Homework Center

Need a quiet place to finish your homework? Need help with your homework? Homework Center starts on September 5th,after school. It meets in Room C101 for 7th & 8th and D112 for 6th and will be open from 2:15 - 3:15 every Tuesday, Wednesday and Thursday. Some computers are available as well. Students must sign in by 2:20, and must stay the entire time unless a parent comes to the door to pick them up. Come to Homework Center and get your work done!

---
Welcome Back!
School starts Thursday, August 10. Be sure you have gotten your schedule and textbooks before school starts. Agendas will be passed out on the first or second day of school
Back To School Night is on Monday, August 14, at 6pm.
Yearbooks are already on sale. We sell out every year, so get yours soon!
6th Grade Honors Classes Donates Money to Charity
Mesa View's 6th Grade Honors classes have worked hard over the last several months running a popcorn business, selling after school. The classes contributed over 75 percent of their profits from their popcorn business to charitable organizations. On Friday, the class Board of Directors presented a generous donation to Childhelp of Beaumont. Way to go Mustangs!
Random Acts of Kindness...
Jordyn T. was inspired, after a discussion in her Student Council class, to create RAK Bags (Random Acts of Kindness) for fellow students in need. She designed the bag and purchased products to create bags for both boys and girls. Her project was chosen to be implemented and the RAK Bag Committee spent this week putting together approximately 50 RAK Bags to be handed out to students in need on our campus.
Carson Scholarship Winner 2017 - Kelsey C.
Congratulations to Kelsey C. for being named a Carson Scholar! Once named a Carson Scholar, students are awarded with a $1,000 college scholarship and recognition package. The Carson Scholars Fund announced that 483 of the best and brightest academic superstars from across the country have been named Carson Scholars and Kelsey is one of them!
Kelsey was nominated by Mesa View based on her high academic achievement and commitment to the community. Carson Scholars are role models and represent our future leaders. Congratulations also go to Matthew F. for being a Recognized Carson Scholar! Matthew received the honor of being a Carson Scholar last year and this year was selected as Recognized Carson Scholar, an honor that can be renewed each year for a Carson Scholar recipient. Congratulations to both Kelsey and Matthew, we are proud of your achievements.
Winner of County Science Fair Goes to State Competition
Elisabeth (Lily) E. is the Mesa View STEM student of the week for her winning science fair project, "Firescape" which will be competing in the county science fair. "Firescape" explores what plants that can be used in landscaping are the most fire resistant. Lily is a talented artist and offers assistance to anyone who asks for it. Her art is usually showcased during school art shows. She is a member of the Builder's Club, the middle school version of Kiwanis, and designed the club t-shirts. Lily volunteers in the special education classes because she loves giving back to the community. She is also an avid athlete playing volleyball, basketball, soccer, and she has been practicing aerial gymnastics since she was three. She would like to perform with a circus someday. Her teachers describe her this way: Lily is a fervent learner and what we love most is that she is transparent in her learning where she shares mistakes she has made and what she has learned from those mistakes...such a benefit for students around her!!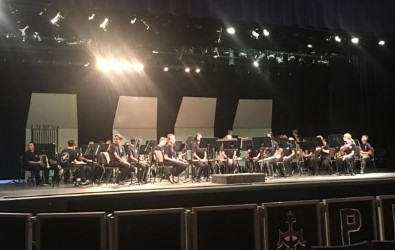 Both the MVMS Concert Band and MVMS Mustang Band, under the direction of Mr. Paul Kane, participated in SCSBOA festival hosted at Pacific High School. They are given ratings from 4 separate judges that address their overall behavior, appearance, and all areas of their playing. Ratings range from 5 to 1 (1 being the best). The concert band received two "1"s and two "2"s with an overall rating of Excellent. The mustang band received a rating of 1 from all 4 judges (unanimous superior). This is the 3rd time in 4 weeks that the mustang band has received this rating, and they are the only band in the district to receive this rating in at least 3 years. They have been accepted to perform at a regional festival in May.
Classified Employee of the Year
We are so proud of Ms. Lisa Frye for being selected as "Classified Employee of the Year"., both at the District level and for San Bernardino County! Lisa is recognized for her compassion and dedication to every member of the Magnificent Mustang Family through her service as an aide, a substitute custodian, and a club advisor. She is involved with our school and our kids on a daily basis.
County Honor Band
Students selected as participants in the County Honor Band were recognized at the January school board meeting last Tuesday. Four 6th grade students and 14 8th grade students were selected. 6th grade students are recommended based on a required criteria
while 7th and 8th grade students win a seat by undergoing a rigorous audition process. These students will perform this Saturday, February 4th, in the University of Redlands Memorial Chapel at 7:00pm. The high school ensemble will also be performing a world premiere of an elegy in honor and reverence of the victims of the 2015 San Bernardino Shooting. Students Pictured: Victor S. Colby C. Diego L. Charlize W. Joshua O. Jasmine Q. Rachael P. Riley B. Sabrina B. Elijah H. Dwayne H. Julian H. Mia M. Yahir R. Maddie P. Alondra A. Bianca O. Alexis M.
CanSat Launch at MVMS
On Tuesday, October 18, with perfect weather, students had the opportunity to learn about launching a satellite and tracking the data it provides. Ted Tagami, CEO of Magnitude.io, the company providing the launch, satellite, recovery, and data gave students an overview of the process at an assembly in the morning. The successful CanSat launch lifted off at 11:20, almost the entire school was there. Mesa View students assisted in getting the weather balloon filled with helium and safely in the air.
Projection using past launch data predicted the flight would be 3 hours and land in Joshua Tree National Park, but a new, heavier 360' camera and less available helium than expected, means it will be a long, low flight and might end up as far away as Arizona. Students will spend next week using the data from the recovered CanSat to study and graph the data If the video won't play, click the YouTube icon at the bottom of the video to play in YouTube directly
Seal of Excellence Added to Mesa View!
Have you noticed our new emblem on the Administration building? This marks our school as a Gold Ribbon Award School! Last spring, State Superintendent of Public Instruction Tom Torlakson awarded Mesa View, one of only 373 secondary schools in California, the new
Gold Ribbon School Award
. This puts Mesa View in the
top 8%
of all high schools, junior high schools, and middle schools in the state. This recognition replaces the former "Distinguished School" award and is a prestigious honor. Read the official letter by clicking
here
. Thank you to our students, parents, and staff who all contributed to earning this award!
STEM Academy Information
Our highly-acclaimed and award-winning
STEM Academy
continues at Mesa View for the upcoming 2015-2016 school year. The STEM Academy is a "magnet program," meaning that students from inside AND outside of the district (in grades 6-8) are able to attend upon completion of the necessary paperwork. Contact Registrar
Renee Jones
for information on how to transfer at (909) 790-8008 x 5275
STEM ACADEMY IN THE NEWS!
- Second annual Da Vinci Day is a big hit. Click
here
to read more.
- STEM Academy opens in August, 2012. Click
here
to read the
Press-Enterprise
story.
- Mesa View receives $10,000 STEM grant! Click
here
for the
Press-Enterprise
story.
- Click
here
for a
Press-Enterprise
story on catapult building at Mesa View.
- Click
here
to hear our superintendent talk about Mesa View on radio station Air1.
NEED MORE STEM INFO?
Click the "STEM" link on the left-hand side menu of this webpage or download our
STEM Brochure
by clicking
here
.
Please e-mail Principal John Moore at
john_moore@ycjusd.us
if you have questions about our STEM program and/or if you need assistance.
Marquee Messages

Mesa View's marquee can display your message. Staff, students, and families may purchase appropriate and positive messages (such as birthday greetings, congratulatory remarks, and thank you notes) for the low price of only $20 per week. All proceeds go to support Mesa View field trips. If you'd like to run a message, please contact Mindi Cox at 790-8008 ext. 5274 or at mindi_cox@ycjusd.us.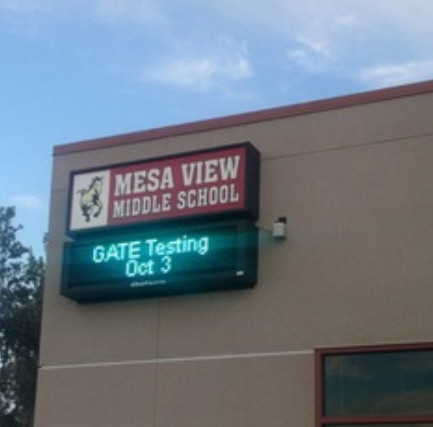 En Espanol

Simplemente haciendo click en las banderas en la parte inferior de la pagina, puede hacer que esta pagina traducida a varios idiomas. Pruepalo!
Translation Available

Just by clicking on the flags at the bottom of this page, you can have this page translated into several languages. Try it!
DISCOUNT HARKIN'S THEATER TICKETS
6 days ago
Discount Theater Tickets
Support our WEB program and save on tickets for Harkins Theaters. Click here to print out your voucher. Send back to school with your money attached. Thank you for supporting all of our students
School Site Council
13 days ago
MVMS School Site Council

The purpose of the SSC is to:
-Work as a team to develop and revise the School Plan, also known as the Single Plan for Student Achievement.
-Monitor implementation of the plan.
-Annually review and revise the plan and the proposed expenditures of categorical funds.
-Regularly attend scheduled scheduled SSC meetings (about 3-4 per year).

Now accepting applications for the 2017-18 MVMS SSC
Application can be found under the "Parent Quick Links" or by visiting the following: https://drive.google.com/file/d/0B3uDo8qBYkHBU1FKWG9MdE9zZHM/view?usp=sharing
Remind 101
13 days ago
School Communication
Made Easier

Please sign up for Remind101 today to receive updates from MVMS to your email or phone.

Mustangs - Please watch your mailboxes the week of July 30th for post cards with schedule pick-up information. Sixth graders will also receive ABI account log-in information.
Please check the "Quick Links" on our website for picture information.
Office Hours July 16 - July 26 9:00 A.M. - 1:00 P.M. Closed Friday

Normal Office Hours Begin July 30 7:00 A.M. - 3: 30 P.M.

HAVE A GREAT SUMMER BREAK!

JUNE 11 - JUNE 28
STEM SUMMER CAMP:
JUNE 11 - JUNE 28
6TH Grade WEB/Schedules -
August 6
7th/8th Schedules -
August 7
SCHOOL RESUMES FOR STUDENTS ON
Summer Softball Clinic - YHS July 17-19, $200 - Contact Coach Landavazo for information.
COMING UP: AUG 6-10
Mon: 6th Gr. WEB
Tue: 7/8th Schedule Pickup/Pictures
Wed: Teacher Prep
Thu: SCHOOL BEGINS TODAY
Fri:
Mustang Round-Up News
13 days ago
Visit this page or scroll down, and select your date to see our newscasts. For MORE Digital Media Projects and Student Work Highlights click HERE.
Year 1, Episode 8
March 5, 2018

Year 1, Episode 5
Nov/ December (deleted)
Year 1, Episode 4,
October 30, 2017
Pony Podcasts
13 days ago
Visit this page to listen to the tunes, and hear about upcoming announcements! For more DIGITAL MEDIA student work projects, click HERE.